2019 EMO Hannover Exhibition
Public Date:2019-07-17
FFG Technical Breakthrough in 2019 EMO Hannover Exhibition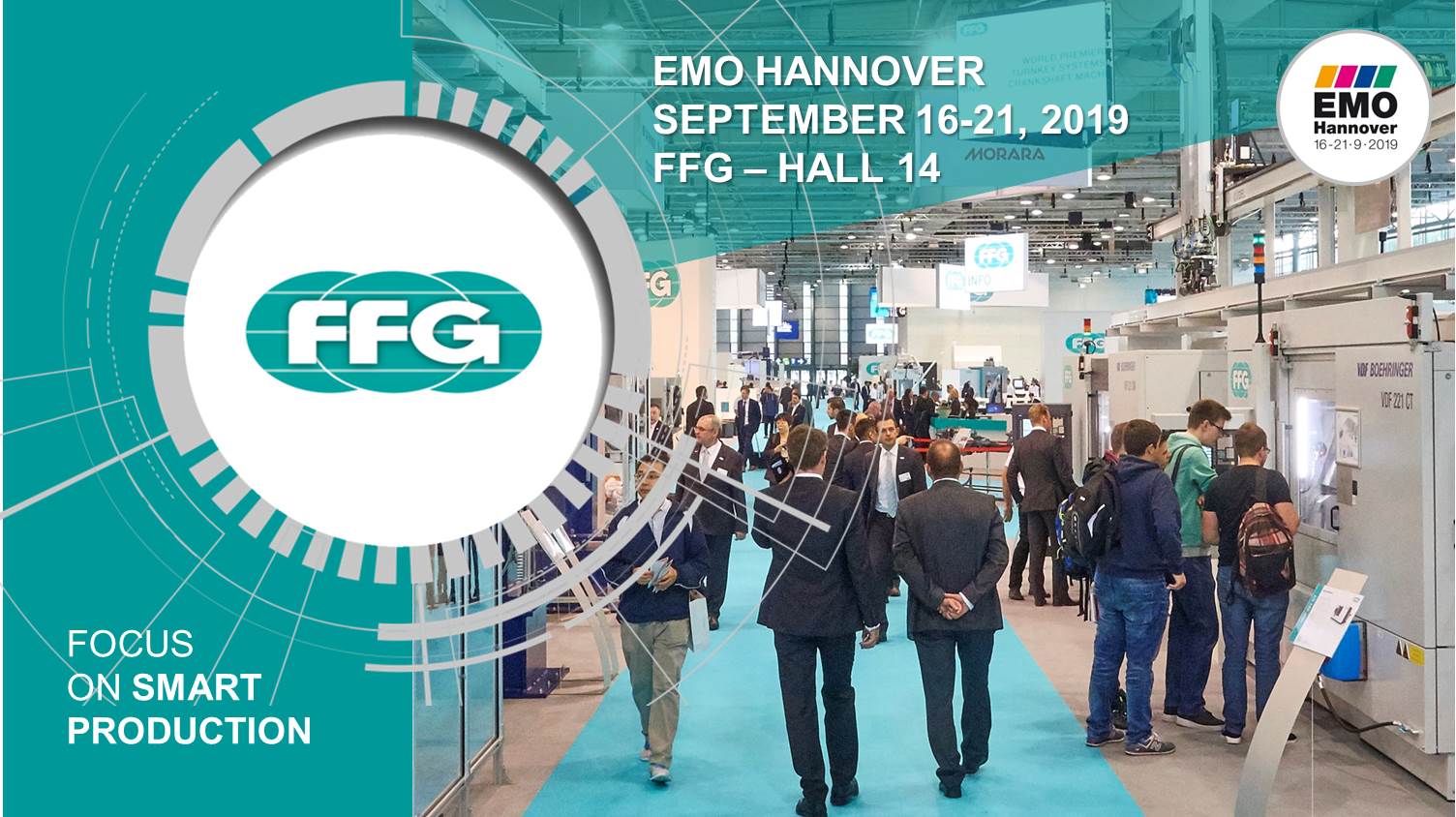 2019 The world's largest metalworking show EMO exhibition will be held in Hannover from September 16th to September 21st.

Fair Friend Group will present at the entire exhibition hall in Hall 14, with a booth area of 6,700m­2. FFG will exhibit more than 20 company brands, displaying industrial allocation including automotive, aerospace, medical, electronics, 5G future factories, smart manufacturing and more industrial themes, it is expected to attract a large amount of visitors' and customers' attention.

FFG will be focusing on the theme of "FOCUS ON SMART PRODUCTION" for 2019 EMO exhibition, together with 20 subsidiary companies from 7 countries, such as Germany MAG, Italy JOBS, Switzerland PFIFFNER, Japan SNK, Korea DMC, USA SMS and Taiwan FEELER, LEADWELL, EQUIPTOP and etc., showing a total of 36 high-end machines and the latest technology and integrated solutions for various industries, including the display of several advanced automated production lines, and The Industry 4.0 demonstration area is also set up in the booth.

FEELER, the mother company of the group, will exhibit five-axis series machines, such as U-600P and U-800T, which are mainly used in aerospace, automobiles, molds, medical equipment and etc., as well as the display of ultrasonic machine QMP-23U which uses ultrasonic tools. It is suitable for special process requirements of brittle hard materials, high temperature resistant super alloys and composite materials, including nickel-based alloys, sapphire titanium alloys, ceramics, glass and etc., which are mainly hard and brittle materials for aerospace, medical and electrical industries.

Feeler's sister companies, LEADWELL will exhibit double-spindle double turret high-performance lathe machines, and EQUIPTOP will exhibit saddle-type CNC grinding machines. In the oversea sister companies' exhibition part, the German brand MAG machines, who is very dedicated to automobile production. Furthermore, VDF Boehringer high-end lathe machines, the MODUL gear special machines, and the famous Swiss brand Pfiffner multi-axis machine and etc.

Global publicity and marketing is also one of the key points of FFG in the exhibition. Feeler plans to publish numerous advertisements at Hannover International Airport in Germany, placing advertisements in the arrival hall of terminals, such as on billboards, light boxes and large posters. FFG aims to gather more public attention throughout the world's largest metalworking show in Germany, increasing the exposure of FFG and promoting the brands from Taiwan to the world.

Feeler is committed to development and promote to customers, providing production needs in all industries, as well as comprehensive production of smart system services in the future. The ability of technology research, development and self-manufacturing production is the first priority in the industry. Throughout 2019 EMO exhibition, FFG will demonstrate the strong technical power, enabling customers to witness and experience our potential and ambition, therefore, FFG sincerely invites every one of you to come visit and explore the greatness of FFG.